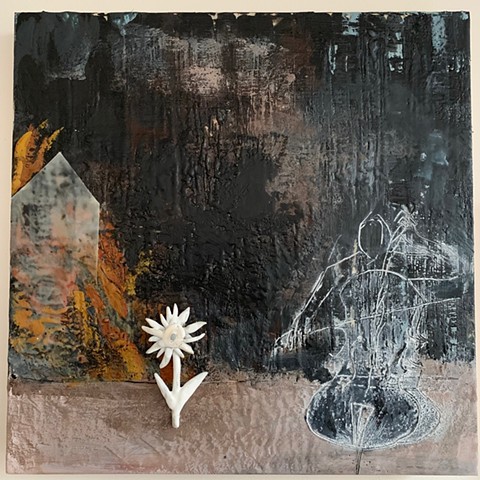 Playing for Peace: This series is in response to the war in Ukraine.
Over the last sixteen years I have been working predominately in wax or encaustic paint while integrating pigment sticks, oil, tar, marble dust, ash, dry materials, graphite, rubber, duralar, collage, clay and miscellaneous mediums. Though I consider myself more of a painter, I also am a photographer and printmaker. I take hundreds of photos daily of my surroundings and things that interest me.
My work explores layering & discovering. I love the sense of the unexpected, the sensation of scent, and the anticipation evoked by moving wax, while also scraping and carving through the wax. Marrying image and medium is what I am most interested in.
My current body of work is redolent of the meeting of sky, sand and sea, while the work often includes animals, birds, chairs, houses, storms, still life, hearts and sometimes just a horizon lines.
I have my MFA from Purchase College of State University of NY and my BFA from the Hartford Art School at the University of Hartford. I'm the Executive Artistic Director of Truro Center for the Arts at Castle Hill since 2002. I am the director and producer of the International Encaustic Conference. I serve on the board of Outer Cape Artist Residency Coalition (OCARC) & the Provincetown Cultural Council.